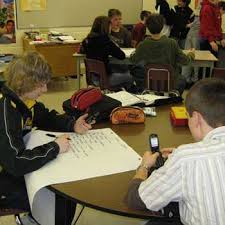 I was glad to see that among ASCD's most clicked on articles of the month was one entitled "Schools slowly add phones, PDAs to curriculum."    Glad the article was published, on MSNBC, and glad that so many educators are clicking on it.  I don't need to repeat myself at too great a length– it is a drum I am beating– but powerful digital tools belong in the hands of students as they do the work of learning in the 21st c.
The article quotes a technology coordinator:  "Cell phones aren't going away. Mobile technology isn't going away," he said. "Right now, what we're telling kids is 'You go home and use whatever technology you want, but when you get to school, we're going to ask you to step back in time.' It doesn't make any sense," he said."
And then the backlash arrives, parents and others complaining that phones will be too distracting when used in school.  Of course they will be, if we are not engaging and motivating our students, and holding them accountable for their quality results.  But if we do do these things, then we can empower and prepare our students with contemporary tools.   Even Mayor Bloomberg is cited here, reportedly opposing phones in schools "You come to school to learn, not to play games or send text messages."   Mayor, please.  Students will learn more if they can use smart tools, if they learn how to use phones and text messages to acquire and process information.  And if they learn by playing games, that is not such a bad thing anymore.  They point is that they learn.
Hard not to notice and be annoyed by the product placement ads accompanying this article on MSNBC, though.   A big colorful web-page devoted to the virtues of cell phones in schools, with advertised circling advertising…. cell phones!