As explained here and here, my book,  Reinventing Crediting, will be published September 18, and this month I'm previewing the book by sharing a set of excerpts from the book.   By contract, I'm restricted to sharing only a total of 5000 words here on the blog, ten percent of the book as a whole.  
Nearly 6000 words in Chapters 2 and 6 discuss the New Zealand NCEA (National Certificate of Educational Achievement) program, which is the national secondary school crediting for competency system.   By not requiring, crediting, or recording conventional coursework on transcripts, but rather organizing learning and crediting by competencies, schools are given great latitude to design schooling to engage and enrich students in deeply meaningful and authentic ways.
Below, I've share about a third–only a third– of the book's extensive New Zealand NCEA discussion.   In addition to quoting from official NZ NCEA documents, the section below also quotes Richard Wells book, A Learner's Paradise: How New Zealand is Reimagining Education: A Guidebook for Parents and Educators Everywhere, and Grant Lichtman's blog post, "High School of the Future."   The photos of Hobsonville Point Secondary School are  my own, from my visit there in 2017. 
—
Secondary education in New Zealand experienced a massive shift almost fifteen years ago when the nation's education ministry adopted the National Certificate of Educational Achievement (NCEA). It is the main qualification for secondary school students in NZ: in effect a high school diploma, the only high school diploma, available for Kiwi students.   NCEA is administered by the NZQA, the New Zealand Qualifications Authority, a government entity tasked with providing leadership in assessment and qualifications. (National Certificate of Educational Achievement). 
–
–
NCEA operates, in a sense, in two dimensions.  In one dimension, as practiced in a high proportion (90%, one NZ educator estimated) of high schools, the innovative model has been corralled and configured into traditional modes of teaching, learning, and assessing.  Though the bottles may be new, the wine is old: little has been genuinely transformed. This is a caution and a caveat to US and global educators seeking to transform secondary schooling through the vehicle of an alternative transcript.  [Much more about this "caution and caveat" is explained and explored in the book, but has been cut for space in this post.] But in a second dimension, powerful transformation is occurring, made available by the flexibility that NCEA affords and inspires.   
NCEA academic subjects are divided into standards, literally, "thousands of purposefully open ended competency and knowledge topic standards" defining what students need to know and show they can do.    (Wells, 2016)
Some example English written language standards from Level 2: 
Analyse specified aspect(s) of studied written text(s), supported by evidence

Analyse significant aspects of unfamiliar written text(s) through close reading, supported by evidence

Produce a selection of crafted and controlled writing

Analyse significant connections across texts, supported by evidence

Use information literacy skills to form developed conclusion(s)  (NCEA Standards website)
And some example Level 2 Science standards:
Carry out quantitative analysis

Carry out procedures to identify ions present in solution
Each standard is worth some small number of credits, usually between three and six, that students earn and accumulate toward gaining a certificate at Levels 1, 2, and 3. Transcripts list the credits they've earned for each standard achieved.  Different NCEA levels achieved establish student qualifications for career and/or "uni" (i.e. postsecondary) tracks: Level 2, for instance, might suit some employers just fine; universities typically demand level 3. Attaining each level requires earning 80 credits.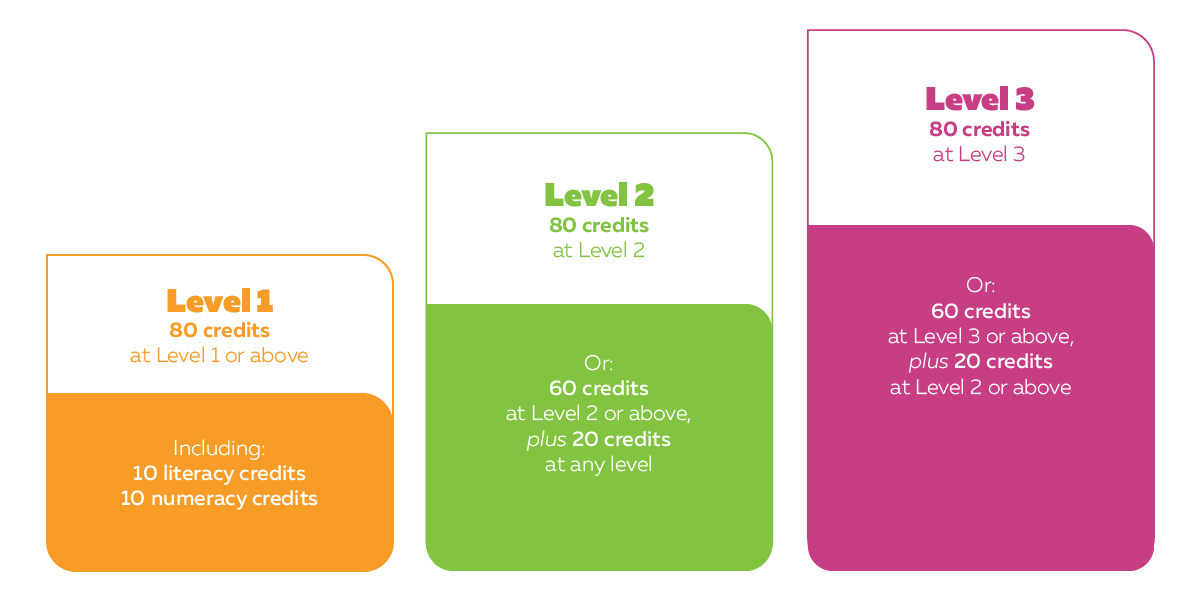 As explained by NZQA, "Credits may be accumulated from different learning institutions or workplaces towards a single qualification. All organisations with consent to assess against standards recognise credits awarded by others."  
What about assessment of students meeting standards, and the consequential awarding of credits?   This happens in two ways: external assessments, via national exams or portfolio submission to a national agency panel, or internal assessments. Many students earn their credits for NCEA standards through national exams, called external assessments, administered by NZQA.  These national exams, or portfolio submissions, are  loosely analogous to AP or IB exams in the US.  
Internal assessments open the door to much more innovative and interdisciplinary learning. Wells provides examples of teachers and students leveraging NCEA this way, evaluated and credited by "internal assessments."  In one example,
"Teachers began to design projects that encapsulated two or more standards in larger pieces of work. Learning areas such as technology were able to switch from assessing isolated skill competencies (such as making a webpage or robot) to large, product-development projects issuing credits for developing briefs and analysing markets and stakeholders for their technology products."  (Wells, 2016)
In another,
"one teacher whose school was alongside the beach created a sustainability project based around surfboard product development, where students had to build fully recyclable boards that catered to specific surfers' performance needs as well as their rather fussy design preferences. This project utilised five NCEA Standards, earning students a quarter of their year's requirements in credits." (Wells, 2016)
NCEA  allows for a  great range of educational innovation, as can be seen in the following ways: 
 Students can earn their 80 credits by drawing from an extraordinarily wide array of standards (in addition to the required literacy and numeracy credits in level one, which amount in total to a quarter of that level and a twelfth of the entirety of the three levels.) Students can choose hereby to craft far greater unique or individualized learning pathways and experiences. 

Students can learn the content and skills they need to achieve any standard entirely on their own or via courses of study outside of formal schooling, take the national exam to earn the credits, and still achieve the various certificates.  No standard is necessarily tied to any specific course, and accordingly, no specific class or Carnegie style credits (such as Algebra 1, US History, Biology, or English 1) is in any way obligatory.
Internal Assessments open the door to much greater flexibility, and ultimately, greater transformative opportunity. Internal assessments are used to assess skills and knowledge that cannot be tested in an exam or placed in a formal.  Internal assessments make it possible for students to forgo all or nearly all external exams, and earn their credits through internal assessments and portfolio submission. (Quality concerns about this alternative pathway are assuaged by knowing that  the NZQA monitors internal assessment and portfolio assessment in an annual review of a randomly selected sampling to ensure consistency and quality, a process called moderation.)
Because these credits  can be mixed and matched, they can be organized into an infinite array of transdisciplinary course options, authentic experiences in the workforce or service,  or personalized learning journeys. As Wells explains,
"the open-ended design of these standards is meant to allow teachers and, more recently, students to devise projects and work that would best show excellence-level thinking and understanding.  Teachers and students can develop projects using collections of standards from different disciplines. This way, an authentic project with the power to make real change in a community could be devised. For example, a project's demand for communication, scientific experiment, product design, marketing, and evaluation could all be assessed by the relevant standards and possibly offer a student around half his or her qualification needs for the year."  (Wells, 2016)
One of the most prominent examples of a school taking advantage of the NCEA system of competency-based crediting  is that of Hobsonville Point Secondary School, situated in a recently developed area on the outskirts of Auckland.   
The school makes for a breathtaking visit from the first steps on campus. A long passageway runs the length of the building, adjacent to a series of laboratories, design labs, makerspaces, flexible seating arrangements, nooks and carrels, and even dedicated spaces for startup technology companies hosted in glass-walled office spaces amidst student learning labs: entrepreneurial and scientific professionals working right alongside and intermingling with secondary students and teachers.  
Touring the school, one encounters students working in a wide variety of modes.   In a few open spaces, students sit in desks in rows, the class led by a teacher, but more often, students work in small groups, conducting experiments, designing and prototyping, and making plans for internships with advisers.   Upon inquiry, nearly every student could speak specifically to the standards they were working to master for credits and to the progress of their individual or small group journeys toward completion. American educational expert Grant Lichtman noticed in his visit that "Students clearly understand and can articulate why they are learning, how it applies to the world around them, and why the learning will help them in the future."  (Lichtman, 2015)
That students and teachers can work toward achieving credits untethered to particular courses means that the schedule is designed far more flexibly. 
"The daily schedule is unlike any other I have seen, with time for instruction, community planning, passion-based units, social time, and the other elements of a balanced, deeper learning experience.  Content and subjects are included within broad multi-teacher interdisciplinary programs." (Lichtman, 2015)  
Visible throughout those long halls are vivid and expansive displays of broad student project work.  As the school website explains, and as the NCEA's flexibility makes possible, "Learning projects are a key curriculum element at Hobsonville Point and are an important way of students learning in and beyond the school environment. Learners are engaged in at least one short or long term project at any time. There are two strands to learning projects: school-wide 'Big Projects' and 'Passion Projects'.
–  
–
Big Projects (Year 9-10) are ongoing, longer term projects facilitated by the school [using] partnerships with external businesses and groups, [providing] scope for student participation across a wide range of roles; include a philanthropy/service element, and potential projects link to cross-curriculum themes: sustainability, wetlands, ethical clothing, musical production, sports academy, makerspace/robotics.   
Impact Projects (Year 11-12) include individual/team negotiated projects initiated from student interest, and link with internal &/or external expertise, mentoring, placement."  (HPSS – Project Learning website)
–
At HPSS, students craft personalized learning pathways aided by a personal "Learning Coach" from the faculty.    Together, they identify interests and passions, set challenging goals, and work to ensure that their individual learning is relevant to them.   Sometimes this means they tackle specifically selected standards matched to their interests and aspirations; sometimes it means they choose particular learning modules that meet their needs. 
Modules are cross-curricular experiences taught by teams of teachers "that provide the depth and breadth of curriculum and wider conceptual coverage. This gives students a choice of connection and context e.g. a Maths with Physical Education co-module, or English and Science. All modules are delivered by specialist teachers at the appropriate curriculum levels and build on a wider Big Concept each term e.g. Space & Place or Identity."   (HPSS – Specialised Learning)
As the school's Principal Maurie Abrams explains, ""We are doing this because we are committed to bringing life to the potential of the NCEA and to make secondary schooling more relevant for young people." (Wells, 2016)